About us
Terry Posters shop is run by a group of people who also manage two biggest art cinemas in Prague, Aero and Světozor which are under the patronage of Union Film company. Terry Posters exist as a physical shop in the lobby of Světozor cinema (Vodičkova 41, Praha 1) as well as this e-shop.
History
Terry Posters shop was ceremonially opened by director Terry Gilliam in November 2005.
Legenda
The name of the shop "Terry Posters" is connected with repeated visits of the famous director Terry Gilliam, a member of the legendary group Monty Python, in Aero cinema. During one of his visits in autumn 1999, when Terry Gilliam was having a discussion with the cinema audience, all the persistent questioning might have made him take off his boots. Barefooted with his socks exposed he finished the discussion. This legendary moment was captured on nowadays just as legendary photo of Terry in his socks.
During the preparation phase of opening the shop and looking for a suitable name we have come across this far-back story. We asked Terry to let us name our shop Terry Posters after his socks and he kindly agreed. Also when shooting his film The Grimm Brothers which took place in the Czech Republic he popped in here and ceremoniously opened this shop on November 10, 2005. Under a slight pressure he endowed us with one of his socks (with a doggie application) which has been – together with his hand-written inscription – exhibited in front of our shop ever since. Thus Terry Gilliam has become a godfather of Terry Posters shop.
Category
We specialize in film posters, film DVDs and film literature (books, magazines).
As for FILM POSTERS we specialize in selling original author's graphic posters which had been originating in Czechoslovakia since 50's of 20th century (see link). We also offer current film posters of all kinds and sizes.
As for our DVDs and books we focus on quality art pieces. This strategy is logically interconnected with the aims of art cinemas Aero and Světozor.
We also market, on an exclusive right of selling basis, film series NON-TRIVIAL FILMS (NETUCTOVÉ FILMY) and COLLECTION 6+6+6 (KOLEKCE 6+6+6).
And last but not least we also sell T-shirts with film design, postcards, bookmarks and other bits and pieces connected with film industry.
Philosophy
By means of Terry Posters shop we want to make the offer for our cinema audience (but not only for them) complex so that they had an opportunity to combine seeing a good film with buying quality films on DVDs, books and film posters in our shop.
We not only sell film posters but we put a lot of effort into organizing EXHIBITIONS OF FILM POSTERS in the art galleries of our cinemas as well as at different film festivals and abroad.
One separate chapter deals with creation of ARCHIVE of film posters.
Accomplishments
We consider our biggest accomplishment the fact that in the course of the last two years we have become the biggest dealers with film posters with the very first publicly accessible picture database of more than 5000 author's grap­hic posters on this web page. We are also very proud of the fact that we managed to set up series of film posters exhibitions and to ressurect a public interest in this very distinct and appreciated chapter of the Czech graphic art.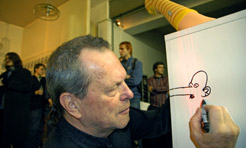 Terry Gilliam is opening the Terry Posters shop, November 10, 2005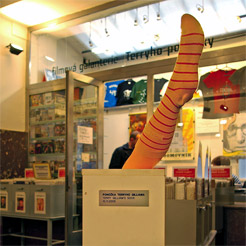 Terry Gilliam´s sock,
February, 2008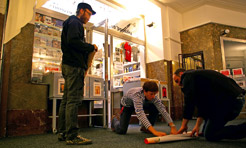 Selling a poster at Terry Posters, February 8, 2008